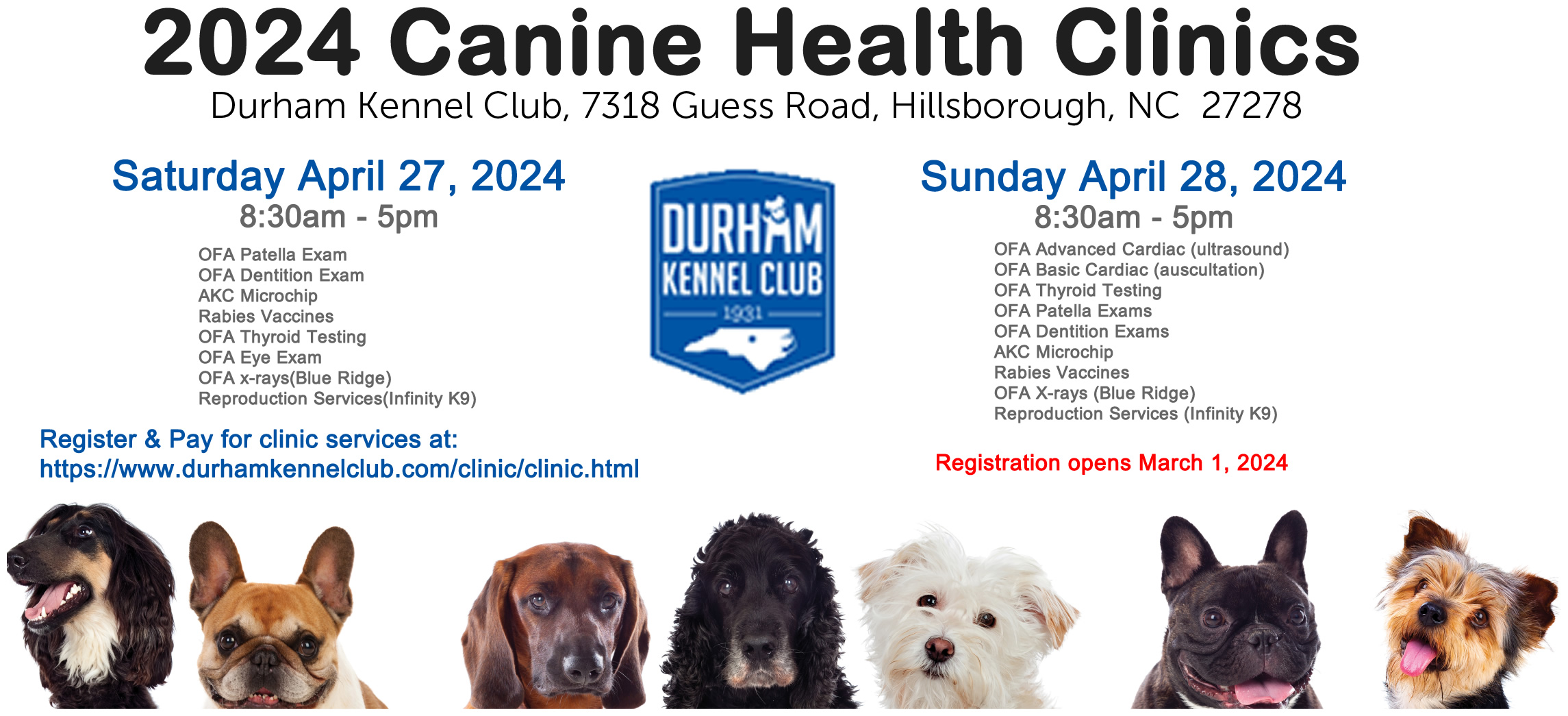 Website Registration Information
Scheduling Services Online:
Cardiac Ultrasound Services will be scheduled on a specific time appointment basis only. Should Saturday, Sept 9 fill completely - we will then open up Sunday, Sept 10. 
ALL OTHER SERVICES will be scheduled on a reservation basis, i.e. a slot is reserved however a time will not be assigned.  As you arrive you will be placed into a line up queue.  Everyone with a reserved slot will be seen on your designated day.
Multiple Services will be managed by first completing those services with a specific time appointment, i.e. if you are scheduled for an ultrasound – that service will be completed first to help maintain an on-time schedule. Following that service you will process through any remaining services you have selected.ed.
Plan to arrive at the clinic allowing ample time to complete the registration process and to fill out the necessary OFA (Orthopedic Foundation for Animals) forms.
REMEMBER o bring along your AKC registration papers (copy or photo is fine) to assist you in completing the OFA forms..
REFUNDS will only be issued during the online registration timeline.  No refunds after September 2 at 5pm.
Note: If, after you signup for a time slot, you don't see your name, it probably means  your browser is using a local copy of the web page.
To force your browser to read from the web server hold down the shift key while clicking on the browser reload symbol(

).
Notice: Pre-registation for the health clinic will close on April 22, 2024
**Refund Policy:  Refunds will be allowed and processed during open online registration of March 1-April 22.  No Refunds after registration closes.  Owners/handlers may 'sell' their pre-registration to another individual; no show forfeits the prepayment.


Saturday April 27 2024
Time: 8:30am – 5pm
OFA Patella, OFA Dentition
Susanne Hughes, DVM
OFA Patella exam - $39 per dog
Pre Register & pay for OFA Patella Exam »
OFA Dentition exam - $39 per dog
Pre Register & pay for OFA Dentition Exam »
***OFA filing fee – additional cost
Blood Draw Services - OFA Thyroid
Hours: 9am-3pm
Michigan State University (MSU) lab, OFA fee & blood draw - $120 per dog
OFA Eye Exams***
NCSU College of Vet Med – Ophthalmology Service
OFA Eye Exam - $60 per dog
OFA x-rays***
*8:30am-5pm*
Blue Ridge Veterinary Imaging Service
Nathan Craddock, DVM
OFA Hips - $299 per dog
OFA Elbows - $175 per dog
OFA Shoulders - $149 per dog
OFA Spine - $253 per dog
OFA Trachea - $149 per dog
*Giant breed fee - $50 per dog
**Doctor's Assistant fee - $25 per dog (challenging dogs only)
***OFA filing fee – additional cost
****Pre-registration and payment required***
Infinity Canine – Reproduction Services
Hours: 9am-4pm
Stephanie Parker, RVT
Collection Semen - $30 per dog
Semen Analysis (includes Collection, Motility Check, Sperm Count and a Written Report) - $80 per dog
Collect and Freeze (includes a free year of storage) - $280 per dog
Sunday April 28, 2024
Time: 8:30am – 5pm
OFA Cardiac Echo-Ultrasound***
Michael Cocchiaro, DVM, DACVIM (Cardiology)
OFA Cardiac Echo - $269 per dog
***Pre-registration and payment required***

Register & pay for OFA-CARDIAC »
OFA Auscultation Exam
Kathleen Brown, DVM, DACVIM (Cardiology)
$52 per dog
Blood Draw Services - OFA Thyroid
Hours: 9am-3pm
Michigan State University (MSU) lab, OFA fee & blood draw - $120 per dog
OFA Patella, OFA Dentition
Susanne Hughes, DVM
OFA Patella exam - $39 per dog
Pre Register & pay for OFA Patella Exam »
OFA Dentition exam - $39 per dog
Pre Register & pay for OFA Dentition Exam »
***OFA filing fee – additional cost
OFA x-rays***
*8:30am-`5pm*
Blue Ridge Veterinary Imaging Service
Nathan Craddock, DVM
OFA Hips - $299 per dog
OFA Elbows - $175 per dog
OFA Shoulders - $149 per dog
OFA Spine - $253 per dog
OFA Trachea - $149 per dog
*Giant breed fee - $50 per dog
**Doctor's Assistant fee - $25 per dog (challenging dogs only)
***OFA filing fee – additional cost
****Pre-registration and payment required***
Infinity Canine – Reproduction Services
Stephanie Parker, RVT
Collection Semen - $30 per dog
Semen Analysis (includes Collection, Motility Check, Sperm Count and a Written Report) - $80 per dog
Collect and Freeze (includes a free year of storage) - $280 per dog